Sage 100 How add Vacation and Sick Accruals to Payroll Check on Sage 100 2018 and higher.
Question: Mike, we own Sage 100 (formerly MAS90) we recenty upgraded to version 2018 and we previously had version 2015 in the old non Crystal version of check form, all the Vacation, Sick and PTO fields were lost, how can we get them back onto the new Check form.
Answer: This is explained below:
NOTE: We advise that you consult with your certified Sage 100 ERP consultant before making any changes to your Sage 100  system. If you don't currently work with a Sage 100 consultant, contact us, call 760-618-1395 or email us at info@caserv.com and we are available to help.
The Payroll Module Database in version 2018 has been changed from previous versions, the Vacation Sick and PTO fields were changed and they are now named TimeOff1, TimeOff2, TimeOff3. They are named HoursAccrued, UsedHours, AnnualLimitHours, AvailableHours for each of the 3 type of Accrual. You can see a picture of the Crystal Reports Field Explorer  below that will show each of the fields.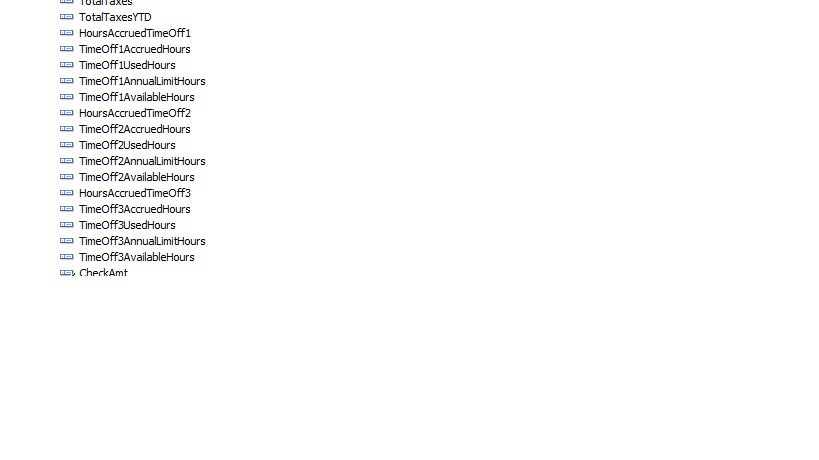 2. In addition there is a new version of Crystal Report that is included with Sage 100 version 2018, Crystal 2016 and it needs to be installed so you can edit the new forms, the Payroll forms were completely rebuilt by Sage, as well as Sage Support does not support Modifications to the out of the box forms, so these instruction will help you modify the form and add the Accrual fields that to the Crystal Report. You can see a picture of the Plain from which you can start with. Click the form button from the Print Checks screen Modules>Payroll>Main>Print Checks and the Crystal Report will open.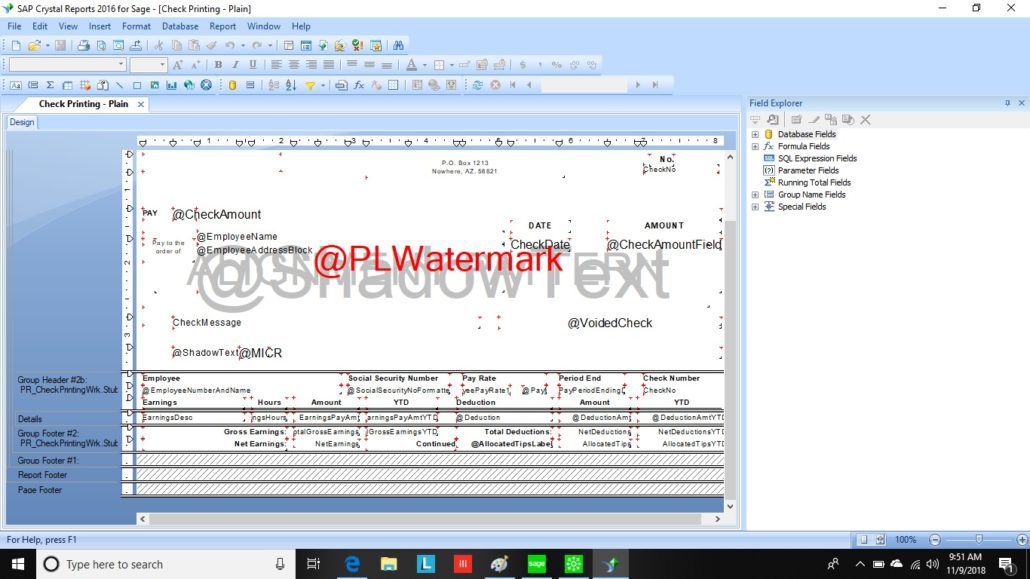 3. Next what you need to do is drag the bottom line down from the Group Footer #2 to allow enough space to the insert the Accrual Fields, this is located just below the Net Earnings, the out of  the box form from Sage does not include the accrual fields so this is a customization. You will also want to reposition all the existing fields to the bottom, and then you can open the Crystal  field explorer and drag and drop the acrual fields into position as well as you can add text titles. You will need to play with this and it is mostly trial and error to get it printing in the right place. In addition you will need to reduce the stub lines on the check printing. You can also suppress the fields in Crystal and move fields that are out of position. This blog is just to give you the general idea of how to modify this form and not teach you all the details of Crystal Reports design.
How do I find out more information?  You can contact us via our Contact Form,  call us at 760-618-1395 or email at info@caserv.com.
Written by Mike Renner: WAC Solution Partners are dedicated to offering business solutions like Sage 100 (formally MAS 90) with over 25 years in the accounting software industry.
Mike is also a Sage Certified Trainer and a recognized leader in the design, implementation and support of ERP systems, including Sage. Specialties:  Sage 100  (formerly MAS90), Acumatica, QuickBooks Pro Advisor.