Question: When we first started using Sage 100 we sold everything under a generic "STD / Standard" product line.  So how do we go about creating new product lines so that with all the different products we sell are actually broken down properly and then the sales reporting based on product line would actually work.
NOTE: We advise that you consult with your certified Sage 100 ERP consultant before making any changes to your Sage 100  system. If you don't currently work with a Sage 100 consultant, contact us, call 760-618-1395 or email us at mike.renner@wacptrs.com and we are available to help.
Answer, this should be a very simple:
1. Need to setup some new product line for what you want them to be Inventory>Setup>Product Line Maintenance, see screen shot you would fill in the fields that are appropriate.
You can also do a new one and use copy button to copy from your existing and just change as you see fit. Would suggest do it first in a copied test company so you can practice.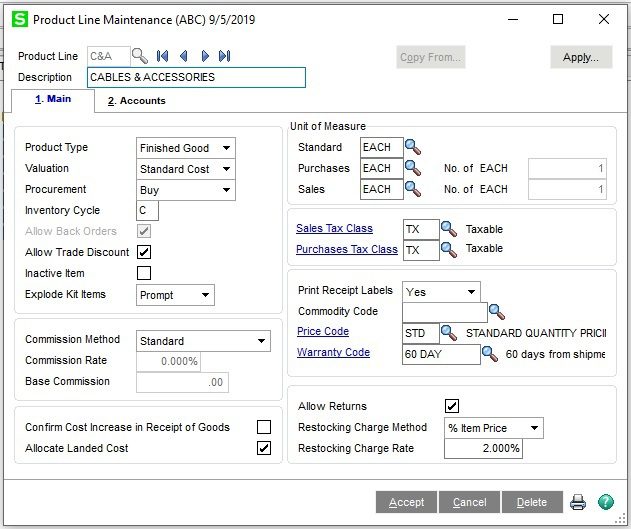 2. Then you want to click on Tab 2 accounts and put in the correct GL accounts, after that you can accept.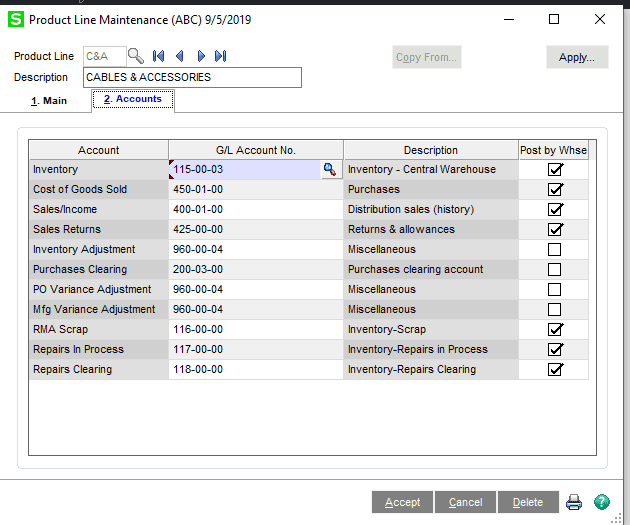 3.  Then you will want to go to each Item and set to the correct Product Line. Inventory> Main>Item Maintenance, you can see the Product Line near the top left you can see and click and just change, if there are a small number you can manually do it, if there are a large number may want to export out the Items and do a Visual Integrator import.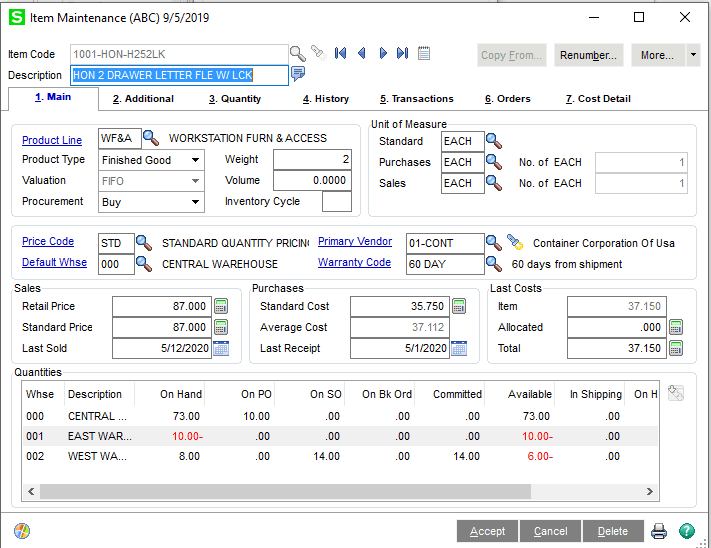 4. How do I find out more information?  You can contact us via our Contact Form,  call us at 760-618-1395 or email at mike.renner@wacptrs.com.Written by Mike Renner: WAC Solution Partners are dedicated to offering business solutions like Sage 100 (formally MAS 90) with over 25 years in the accounting software industry.Mike is also a Sage Certified Trainer and a recognized leader in the design, implementation and support of ERP systems, including Sage. Specialties:  Sage 100  (formerly MAS90), Acumatica, QuickBooks Pro Advisor.