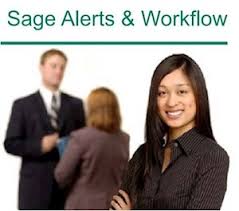 Companies with systems that automatically monitor, assess, and report on data not only anticipate events before they happen, are more competitive, more proactive and more profitable. Learn more about the tools available to you to help you make more proactive decisions to benefit your organization and eliminate the phrase "if only we had known".
To learn more you can watch a prerecorded video, to discover the tools you need to become more data-driven, better manage your critical business activities and maintain great business relationships with your customers and vendors.
When you attend the webinar session, you will also learn more about:
The 8 types of business conditions you should be on the lookout for
How to be automatically alerts so that you can respond quickly to trends, exceptions, and anomalies.
How to automate tasks currently done manually (such as invoicing & statement delivery)
Quantifying your organization's need for "business activity monitoring"
An Article that may help you understand what Sage Business Alerts can help you with in your business.
It's What You Don't Know That Can Hurt You
The author Mark Twain was once asked about his many business ventures – most of which had failed. Twain explained how his ventures had failed not because of bad technology (most of the items he invested in became very successful realities, but under different ownership), but rather had failed because he had not kept an eye on their progress. He summed up the lesson that he had learned as follows:
"Put all your eggs in one basket – and watch that basket."
If anything, that phrase is truer today than it was 100 years ago – and it's especially true regarding ERP applications. Organizations have vast quantities of information that they need to keep watch over; invoices coming due, stock running low, changing buying trends, and so on. What with corporate downsizing and fiscal belt-tightening, few – if any – organizations have the luxury to turn to an employee and say, "Hey you – it's your job to keep an eye on our ERP data and if anything looks wrong, let me know."
And so, your net result – like Mark Twain's – is that you don't watch over all the "eggs" in your ERP basket and bad things happen. You write off bad debt. You throw away expired inventory. Late deliveries become commonplace. And you lose some of your best customers.
This is exactly what Mark Twain was talking about; keeping watch over your investments (in your case, your ERP data). In Twain's day, the "watcher" had to be himself; but in our day, we can automate the "watching process". And that's exactly what you should be doing if you wish to avoid the same kind of problems that Twain experienced.
"Automated watching and responding." That's what Twain was talking about. He needed to constantly monitor his business ventures. He needed to know immediately when something looked out-of-whack. He needed to know when "discoveries" should have pushed him in another direction. And he needed to watch over all his ventures equally well; his problem wasn't that all his ventures were failures, but rather that he paid more attention to those that were doing well than those that weren't.
You can apply these same concepts to the monitoring of your ERP data. Whether it's receivables, inventory, manufacturing, or some other area of ERP, they all need equal "watching over". And to do this today, you need a technology that embodies the same characteristics that Twain found lacking in his own approach to his prospective inventions:
n Focus. Invest in a technology that focuses on doing one thing: identifying and
responding to business conditions in your business data. Business is increasingly
complex today; you need to be able to identify sophisticated conditions (such as
customers who have changed their buying habits) and then communicate those
conditions in a wide variety of ways.
n Delivery. Twain was fortunate in that the methods of communications in his day were
limited; today you must consider email, fax, cell phone, instant message, dashboard,
and social network. Some information must be in quick one-line alerts, other must be
delivered as analytical reports or standard forms and documents. It all comes down to the right information via the right people via the right device.
n Independence. Twain didn't have one invention going at a time; he had multiple. Just
like you don't run your business just on your ERP system – you likely have a CRM
system, an HR solution, and maybe a help desk application. You can't play favorites
when it comes to "watching" – a solution must monitor and respond to all your business
applications, commercial as well as home-grown. And don't forget incoming email – one
of the top three sources of information coming into businesses today.
n Integration. "Interoperability" is the key word of today when it comes to business
applications like ERP, CRM, and HR. You must realize that sometimes the most critical conditions aren't always represented by information in just one of your business
applications – but rather in the combination of data between two or more applications.
Invest in a "watching" solution that combines, analyzes, and responds to disparate data
across your entire organization.
It's interesting that 100 years after Mark Twain's passing, we can still take lessons from him. Success – whether defined as the launch of an invention or defined as a productive ERP solution with well-managed customers, partners, and transactions – is dependent on your ability to watch over, identify, and respond to changing business conditions.
We hope this was helpful. There are many other applications to help save time throughout Sage 100 using tools like Sage Sage Alerts and Workflow . If you have any questions, please contact us, call 760-618-1395 or email us at info@caserv.com and we will be happy to help.
Mike Renner:  Partner of WAC Solution Partners, a Sage 100 certified consultant and support provider based in Indio, CA.
Mike is an expert on ERP and fund accounting and supports Abila Fund Accounting and Sage 100 ERP with over 25 years in the accounting software industry. Mike is also a Sage Certified Trainer and a recognized leader in the design, implementation and support of ERP systems, including Sage.
Specialties:  Sage 100Cloud (formerly Sage MAS90 / MAS200), Abila MIP Fund Accounting™, Acumatica, QuickBooks Pro Advisor