We have had a few customers ask about changing the location of their Sage 100 Intelligence workstation when they either replace computers or add users.
So, though it would be good to document this.
When you access Modules>Sage Intelligence>License Manager the system will ask you for the location of the Network Repository Path. This will be a network drive and is the location where you store your Sage Intelligence reports. See screenshot below. After that we have listed the steps to remove Sage Intelligence workstation if needed.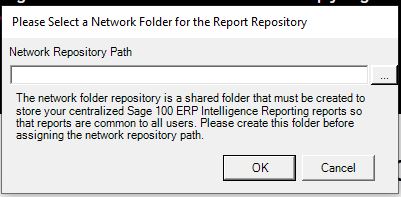 If this is a new installation on a computer and you already have installed Sage Intelligence on an existing computer in your office, you will need to remove the workstation license.
Steps are shown below to remove the workstation license.
Open Sage Intelligence>License Manager
Double click on the Customer Account Number (on left side) in the object window and all assigned workstation licenses will be displayed.
Highlight the Computer Name and select Delete.
Click Yes to Are you sure you want to delete the License (Computer Name).
Click Yes to Warning: Deleting a license will invalidate the serialization keys and serialization will have to be re-preformed online before any of your users will be able to access. Are you absolutely sure you wish to delete the license?
Close the License Manager.
Please stay tuned for more helpful Sage 100cloud tips and tricks.
Mike Renner – Partner
WAC Solution Partners
mobile: 253.861.3120 | local: 760.618.1395  toll free: 866.400.0WAC (0922) | 
Single Source Provider of Turnkey Business Accounting & Management Software