Question: Mike, In Sage 100Cloud the Accounts Receivable Aged Invoice Report does not agree with the Accounts Receivable amount on the balance sheet.  It balanced at the end of last month, what  did I do or how can I correct this?
Answer:
The first step is run the Accounts Receivable Trial Balance Report for the same period. Does this report balance to the balance sheet? Yes
Second step, If the Accounts Receivable Trail Balance Report balances, then this normally means there are dating issues with the input of Accounts Receivable Invoice data entry. In other words an invoice with an invoice date of 5/31/2012 should be posted with an accounting date of May 2012. If it was posted with an accounting date of 6/1/2012 this would cause the Accounts Receivable balance to not agree with the Accounts Receivable Aged Report.
Third step, through Accounts Receivable Customer Maintenance, Invoices check each of the Accounts Receivable Invoices in question that are showing up on the Aging Report. Trouble shoot them, match the invoice date with the accounting posting date. If there is an error do a reversing entry to the invoice in question and correct the date until the report balances.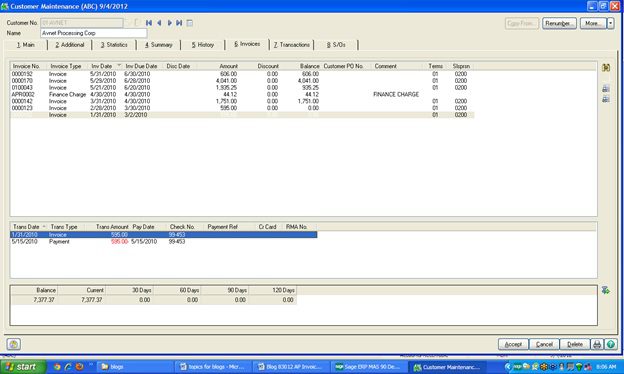 If you have questions, please contact us. Please stay tuned for more helpful Sage 100cloud tips and tricks.
Mike Renner – Partner
WAC Solution Partners
local: 760.618.1395 | toll free: 866.400.0WAC (0922) | mobile: 253.861.3120
Single Source Provider of Turnkey Business Accounting & Management Software